GRUNDFOS SCALA1
High Efficiency Water Pressure Pump
Grundfos SCALA1 is an all-in-one pressure boosting unit with a high-efficiency motor and hydraulics with low noise operation for domestic water supply and also light commercial applications. Built-in Bluetooth communication gives you complete control over the pump using the Grundfos GO REMOTE, also for twin pump operation. This means that installation and commissioning has
never been easier. The Grundfos GO REMOTE app also lets you see alarm status and get easy pump diagnostics. You can create and email reports onsite and access hard-to-reach installations remotely from the app.
Designed for pressure boosting in domestic installations, use SCALA1 for pumping from a roof tank, break tank or ground tank. It is also ideal for water supply from shallow wells (less than 8 m) and for pressure boosting from city mains water.
Key Features and Benefits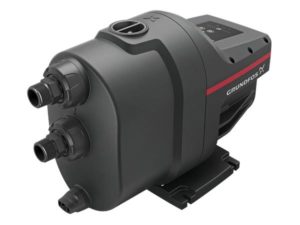 Perfect Water pressure: Control the pump remotely form the app to give you the pressure you want, when you you want it.
Low Noise: Low level noise (<55 dB(A) in typical use)
Easy Selection: One variant for all residential boosting needs
Easy Installation: Connect the pipes, prime the pump, and plug it in!
Easy to Operate: The Blue-tooth communication allows for monitoring from any device(IOS or Android)
Reliable Operation: Dry-running protection, non-return valves
GRUNDFOS SCALA1 Specs
GRUNDFOS SCALA2
Integrated Water Boosting Pump
SCALA2 is a fully integrated water booster pump providing perfect water pressure in all taps at all times – even with multiple taps and showers running at the same time. It packs pump, motor, tanks, sensor, drive and non-return valve into one compact unit. And with its intelligent pump control, SCALA2 automatically adjusts performance to both inlet pressure and water consumption in the home. Thanks to a water-cooled motor, SCALA2 even offers one of the lowest noise levels of any booster on the market.
SCALA2 features a built-in sensor, which constantly measures the discharge pressure. If the pressure drops below the desired level, SCALA2 boosts its operation immediately to compensate for the loss of pressure. We call it intelligent pump control and the result is perfect water pressure.
Key Features and Benefits
Perfect Water pressure: Intelligent pump control adjusts operation automatically
Low Noise: As quiet as a modern dishwater (47 dB(A) in typical use)
Easy Selection: One variant for all residential boosting needs
Easy Installation: Compact, all-in-one solution, plug-and-pump
Easy to Operate: User-friendly control panel
Reliable Operation: Dry-running protection, anti-cycling
Long Lifetime: Quality-tested to perfection, maintenance-free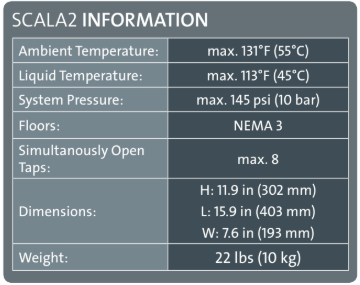 GRUNDFOS SCALA2 Specs