See Our Reverse Osmosis Water System Flyer
Metro Water Filter can help guide you to the best decision for your home or business drinking water by offering our expert knowledge with no obligation to purchase. If you feel like you are having challenges with your water and would like to talk to a water filtration specialist, feel free to reach out to us and we can schedule an onsite consultation. Metro Water Filter is a customer-centered company that provides honest service to Georgia residents and businesses. We are proud to serve these communities with trusted recommendations and resources without pressure to buy. Learn about our reverse osmosis water filter systems below and feel free to call us if you have any questions.
Why Reverse Osmosis?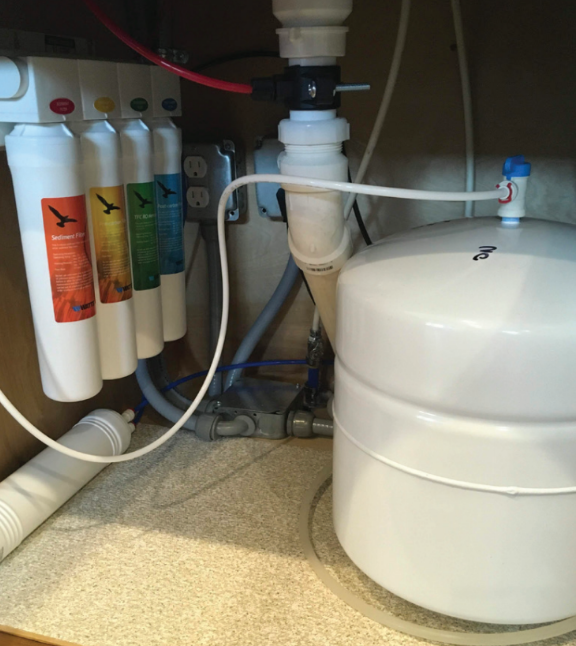 Reverse Osmosis Water Filter Systems are often requested for the highest quality drinking water to r.o. faucets, refrigerators, and ice makers. Many refrigerators and most ice makers are now calling for street pressure on the incoming water line. At Metro Water Filter we offer a water boosting pump called a Grundfos Scala2, which is a fully integrated digital water booster that provides the proper pressure at all times. This is what is needed to protect your appliances.
On the contrary, a permeate pump is a very small pump that instead forces water through the R O quicker, which helps keep water in the tank. But the pressure needed for appliances oftentimes is not met when going this route, and can drop completely if much water is called for at the same time. We choose to stay with the best, professional route to deliver the best water pressure and believe our customers deserve no less.
Benefits & Features of Reverse Osmosis Water Filters from Metro Water Filter
The top two bottle water producers in the nation use Reverse Osmosis to filter the water they sell. You can have just as pure water in your home for drinking, cooking, and ice making through Reverse Osmosis technology. If you routinely purchase bottled water then you know how expensive it is. A Reverse Osmosis system can save you hundreds of dollars per year.
A high-quality Reverse Osmosis system will remove 99.9% of most all contaminates. Highly toxic contaminants such as mercury, lead, arsenic, asbestos, cyanide, nitrates, radium 226, and 228, radon and uranium are all removed. In addition, the system removes sodium, potassium, aluminum, nickel, cadmium, silver, barium, copper, chlorinated pesticides, chloride, phosphate, fluoride, beryllium.
USRO4-100-JG Reverse Osmosis Drinking Water System
Reverse Osmosis drinking water systems include mechanical filtration to remove particles, carbon absorption and absorption to remove chlorine, taste, odor, and chemical contaminants, as well as membrane separation down to .0001 microns.
Water Quality Association gold seal certified to NSF/ANSI Std. 58
100 gallon per day rated system, comes with standard storage tank & standard brushed nickel faucet
100% made in the USA, manufactured by H20 warehouse in Marietta, GA
USRO4 Datasheet
Kwik Change Reverse Osmosis System
A Reverse Osmosis system will leave your water crystal clear and clean. Here are some reasons to consider Metro Water Filter if you are in need of an RO system:
Watts Kwik-Change Reverse Osmosis System is simply the best of the best
Water Quality Association Gold Seal Certified to NSF/ANSI STD. 58
Unlike conventional RO systems, Watts drinking water systems with Kwik-Change cartridges have no sumps, so their proprietary filter elements and membranes are easy to replace
System and storage tank sized appropriately to supply the highest quality drinking water for where you desire it
1-year Metro Water Filter satisfaction guarantee
Installed by a master plumber & services by a service department with 25+ years experience
Kwik Change Specs
What is a Reverse Osmosis Water Filter?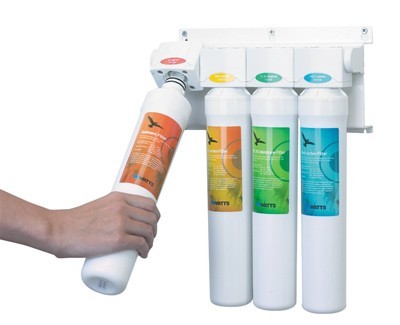 Watts Kwik-Change Reverse Osmosis System is state-of-the-art water treatment. In the 1950's, the U.S. Government developed Reverse Osmosis for desalinating sea water. Reverse Osmosis is the most efficient way to filter water. The heart of a Reverse Osmosis system is the membrane. This high-tech membrane is capable of filtering 0.0001-micron particles from your water. By the time water has run through our Reverse Osmosis system, it's virtually free from all contaminates.
Benefits
Removes most harmful contaminants from your water
Provides bottled water/spring water quality in your home
Produces the purest water obtainable
Allows the true flavor of foods and beverages to come through
Your water will be substantially less than purchasing bottled water, no matter how much water you consume
Integrated Water Boosting Pump – GRUNDFOS SCALA2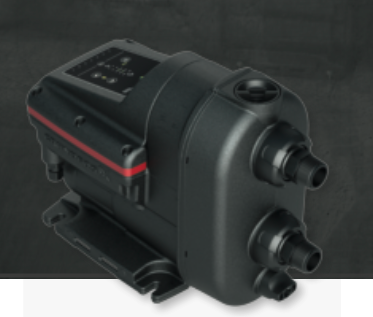 SCALA2 is a fully integrated water booster pump providing perfect water pressure in all taps at all times – even with multiple taps and showers running at the same time. It packs pump, motor, tank, sensor, drive and non-return valve into one compact unit. And with its intelligent pump control, SCALA2 automatically adjusts performance to both inlet pressure and water consumption in the home. Thanks to a water-cooled motor, SCALA2 even offers one of the lowest noise levels of any booster on the market.
SCALA2 features a built-in sensor, which constantly measures the discharge pressure. If the pressure drops below the desired level, SCALA2 boosts its operation immediately to compensate for the loss of pressure. We call it intelligent pump control and the result is perfect water pressure.
SCALA2 Specs
Or Fill Out Our Contact Form
Quick Contact
We would love to hear from you! Please fill out this form and we will get in touch with you shortly.