Pipe Sizes: ¾" – 1.5″ (19 – 55mm)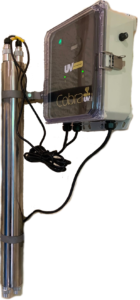 Flow Rate: Up to 40 gpm (151 lpm)
CobraUV® Series UV Water Treatment System
Manufactured by UV Superstore, the CobraUV® Series UV Water Treatment System is designed for disinfection, ozone destruction, and TOC reduction. The system is engineered to provide optimal water flow and retention time to reduce bacteria by up to 99.9%.
Features
Disinfection without chemicals
Visual View Port
Remote Polycarbonate Power Enclosure
Electropolished and Passivated 316L stainless steel chamber
LED UV Lamp failure indicators
Elapsed Running Time Meter
Available in 110v, 220V and 240V
30 mj/cm2 dose at specified flow rate at the end of lamp life
Applications
Well water
Homes
Water systems
Aquaculture
Food service
Water coolers
RO systems
Specifications
Chamber materials: External 316L, Internal Ra1.5
Max pressure: 100psi
UV dose (end of life): 30 mj/cm2
Lamp life: 10,000 hrs
Lamps per chamber: Single or Double
Water Quality Guidelines
Total Iron: < 0.3 mg/l
Color: None
Turbidity: < 5 NTU
Manganese: < 0.05 mg/l
Hardness: <120 ppm
Suspended Solids: < 0.05 mg/l
pH: 6.5 to 9.5
Note: Minimum water quality guidelines are recommended to ensure proper operation and continuous disinfection.