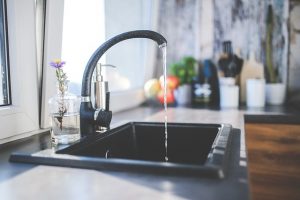 Residential Water Filtration System and Services
For homeowners who understand the danger of the contaminants that are in untreated water, Metro Water Filter is a leading supplier of residential filtration systems. We install and provide around-the-clock service and maintenance for our customers. Unlike most fly by night dealers who operate out of their garage, MWF is an established business with over 30 years of experience with a full-service department serving thousands of satisfied customers.
Do MWF Systems Work for Wells & Public Water?
Yes! Our filtration systems work for both private wells and public water sources. The first thing we will do is test the water quality in your home. Depending on the findings, we will suggest a water filtration option that will ensure you have great-tasting, clean water for your entire home. Each of our systems are customizable to your specifications. We will discuss the options with you and ensure that you are able to enjoy all the benefits of clean water.
Benefits of a Whole House Water Filter
Clean water is the most important aspect of your home. We use it every day in a variety of ways in our household, whether we are doing laundry, taking a shower, getting ice for a cold beverage, or just pouring a glass of water from the sink. The importance of clean water cannot be overstated. A filtration system can help you improve each of these and ensure your family's health.
Safe Drinking Water
There is nothing like a glass of cold water after working out in the yard on a hot day. Something we do not think about contaminants that have the potential to pollute our household water. Heavy metals, chemicals, and other pollutants can have harmful effects on your body and also make water taste horrible. A filtration system can eliminate this possibility and ensure you have great-tasting water.
Save Money & Added Convenience
With a filtration system in your home, there is no need to buy bottled water from the store. The cost of buying bottled water over the course of a year adds up quickly, not to mention the effects of plastics on the environment. Not to mention the inconvenience of making a trip to the store just to buy a bottle of decent water. A filtration system will give you peace of mind, knowing that it is doing its job 24/7 to give you clean, safe water.
Reduce Potential Plumbing & Appliance Problems
Chemicals, metals, and minerals in water can corrode pipes and water-using appliances. They also have a powerful effect on your appliances. Corrosive water breaks down the internal components and reduces the overall lifespan of them. Corrosion can also decrease the efficiency of water heaters and have been known to cause premature failure. The effects of corrosion are not always internal either. Untreated water usually causes a red or green stain around drains. Remove the possibility of any of these things happening to you with a filtration system.
Prevent Skin Irritation
Individuals who experience skin irritations or have conditions such as eczema can suffer the effects of untreated water. Chlorine and other chemicals can be an irritant to sensitive skin. Installing a filtration system can ensure you will not experience unneeded problems since they eliminate more than 99% of dangerous contaminants from the water in your home.
A Big Difference
Treat your water and it will treat you even better. Some of the benefits of our filtration system include cleaner, softer clothes, and towels, more luxurious, foaming baths, extended life for appliances, faucets, and pipes, and clearer, taste and odor-free ice cubes. You will notice a big difference with our residential filtration system. For homes with hard water or chemical-like taste, we can remove those issues, ensuring you have clean and odorless tasting water. It will also be easier on your plumbing, your appliances, resulting in reduced long-term wear.
These are just a few of the benefits of having your water treated. Worried about cost? A superior Metro treatment system will pay for itself with cost-saving benefits. Learn more about our water filtration services.
Reverse Osmosis
Reverse Osmosis (RO) is state-of-the-art water treatment. Reverse Osmosis is the most efficient way to filter water. Our reverse osmosis water treatment typically reduces impurities by 90% or more from your water. These impurities can include lead, iron, mineral salts, sulfates, mercury, asbestos, and more. By the time water has run through our Reverse Osmosis system, it is virtually free from all contaminates, providing spring water quality in your home.
Residential Chlorinator
Water chlorinators provide a continuous dose of diluted chlorine into your water supply. The diluted chlorine will eliminate problems related to bacteria and sulfur. Our Residential Chlorinators require little maintenance and provide trouble free service. The periodic addition of chlorine to the holding tank, or the addition of chlorine pellets into the dispenser, are all that the system needs to operate at peak efficiency.
Carbon Filters
If you have noticed an unusual taste or odor in your home's water you may benefit from a carbon filter. Our Catalytic Granular Activated Carbon Filters remove chlorine from the water and help protect against heavy metals such as lead and mercury. The system comes with a control valve for self-cleaning to ensure the longevity of the system. Call Metro Water Filter to schedule a consultation and we will be happy to provide you with the information you need to make the best decision for your home. Our technicians and customer service staff will not pressure you into buying something you don't need, so you won't have to worry about feeling obligated to make a purchase. We are excited to provide our community with our expert knowledge and superior water maintenance services to guarantee satisfaction from our customers!
Water Softeners
In most cases, the presence of hard water is not difficult to detect. Look for white deposits in sinks and tubs, spots and streaks on glasses, rough hands with burning sensations, rough feeling clothes after wash, and corroded faucets and fixtures. With a water softener and conditioning filter, all minerals in the water will be eliminated. Your water will no longer contain all the calcium, magnesium and manganese.
Sediment Filters
Sediments and fine silt in your water supply can cause serious and costly problems in your home like pipes clogged with debris and life expectancy of appliances. A visit from Metro Water can determine what type of sediment you have present so we can recommend the best possible solution for your home. please give us a call and we will set up an appointment to test your water on site.
Interested in A Water Purifier for Your Home? Contact Us Today!
Our experts can evaluate your particular situation and recommend a water purifier that will meet your needs. Our friendly team at Metro Water Filtration has the knowledge and experience to give you a range of options for your home and get you the clean, contaminant-free you deserve. Fill out the form below to get in contact with us or give us a call at 1-888-692-8375 for a free estimate.
Quick Contact
We would love to hear from you! Please fill out this form and we will get in touch with you shortly.
Are you a business owner looking for a clean water solution? Our commercial water filtration systems will ensure better quality for all of your business services. We proudly serve the greater Atlanta area.