Regardless of the quality construction of homes and properties, water leaks are bound to happen. And when they do, leaks can cause severe damage to a home, business, or property before it's even discovered. There is a solution and it's a lot more affordable than having to repair water damage. It's called FloLogic Smart Leak Detection, and Metro Water Filtration offers it to you! With the FloLogic Leak Detection System in place, you can monitor water flow at the defined start and stop points and be notified immediately if your property has any leaks. The FloLogic System even interfaces with water softeners, irrigation systems, pool fill valves and reverse osmosis filters for a complete monitoring unit and utilizes reliable ball valve auto-exercise to ensure water shutoff when instructed to do so.
Once you install the CONNECT enabled app-based control on your phone, you can monitor low temp alerts, continuous flows as small as half an ounce and proactively shutoff water if a problem is detected, alerting the property owner locally and remotely in real-time through the CONNECT FloLogic app.
Here are some of the common areas where leaks occur and why it happens:
Appliances: Refrigerators, washing machines, and water heaters can have multiple failure points which can go unnoticed, causing an insurmountable amount of damage.
Fittings: Anywhere there is a water supply line, there's a potential to have a leak. These water supply lines can be found in bathrooms, a break room or in the kitchen.
Pipes: The #1 area for a leak to occur. Chemicals in the water accelerate the corrosion of materials used in plumbing, compromising the overall integrity over time.
How FloLogic works:
Locate the main water line coming into the house and install the FloLogic System at that point.
Using a standard 120-volt outlet plugin to power the FloLogic System, connect it to your Wi-Fi module for real-time alerts and updates. The FloLogic System even has a battery-backup for power outages and is waterproofed for outdoor installation.
Once the app is installed and connected to FloLogic, customize program to your specifications, even have it contact a security technician if desired. The Wi-Fi module is backward-compatible with models developed since 2005.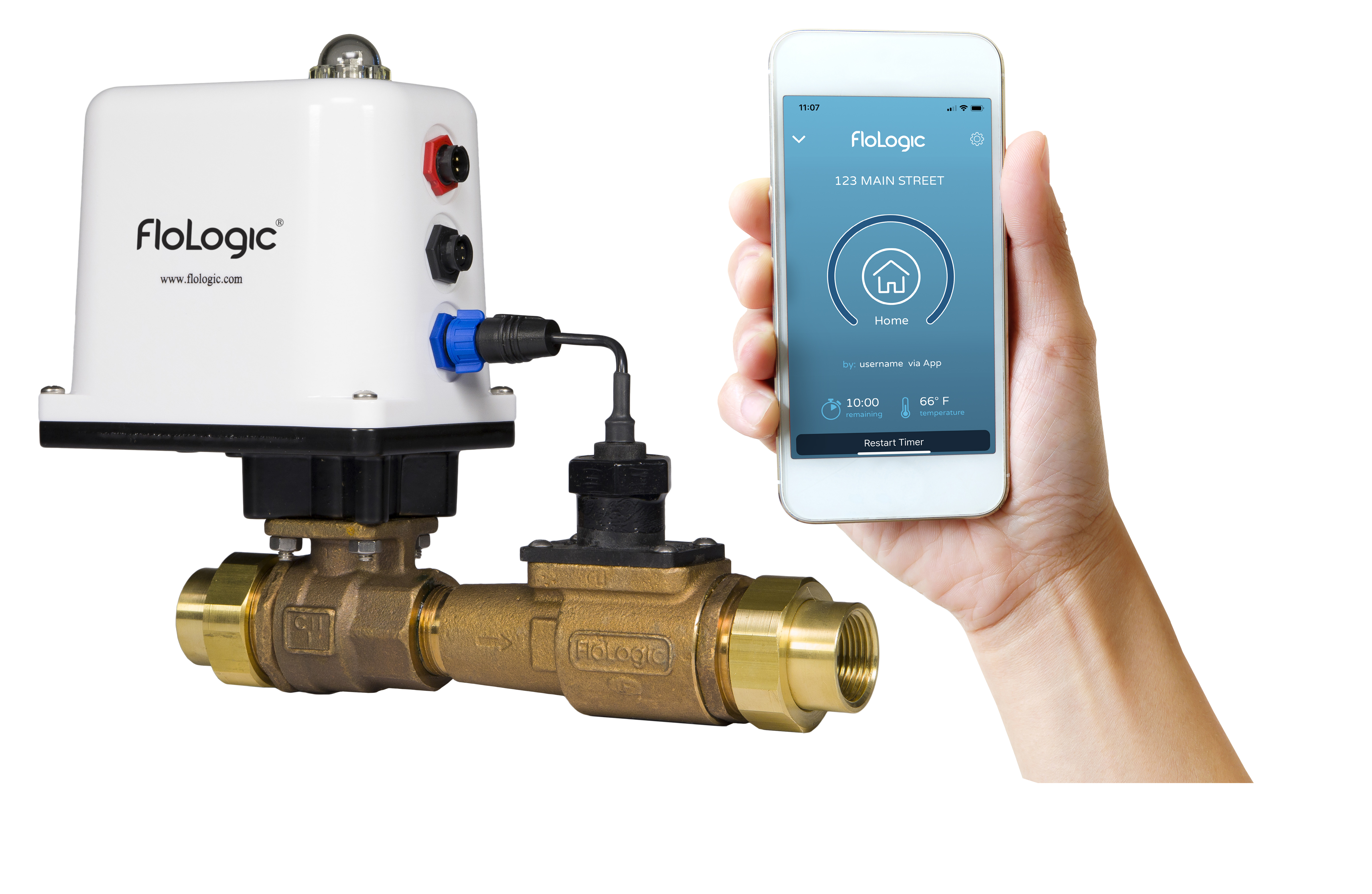 FloLogic System Standard Features
CONNECT WiFi allows app-based system oversight, control and alerts and adds a temperature sensor.
Lead free, cast bronze construction with full-port stainless steel ball
Available in 1", 1.5" and 2" valves with fittings on both ends of the Valve
Waterproof Valve Assembly (IP68) – Allows both indoor and outdoor installations
Listed with UL, cUL, UPC, and cUPC, Certified to NSF 61-8
Less than 3 PSI pressure drop at 30 GPM flow. Under 5 PSI pressure drop at 50 GPM
Maximum designed working pressure of 100 PSI
Air Temperature 35°F (2°C) to 120°F (50°C), Water Temperature 35°F (2°C) to 140°F (60°C)
Integrated manual override
Capable of detecting water flow starting at 1⁄2 ounce (1 Tablespoon, 15 ml) per minute
When AC power is interrupted, System Battery provides power for up to 7 days
Includes security system and building automation interfaces via dry contacts as a standard feature
50-foot Communication Cable connects Valve and Control Panel—can be extended up to 1,000 feet
Irrigation integration to accommodate long irrigation cycles
Standard five-year warranty against manufacturer defects