Product Specification: EZH2O Bottle Filling Station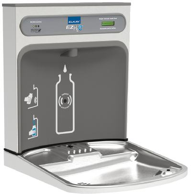 Retrofit EZH2O bottle filling station for 115V/60Hz EZ style pushbar-activated models. Bottle filling unit shall include an electronic sensor for touchless activation with auto 20-second shut-off timer. Shall include Green TickerTM displaying count of plastic bottles saved from waste. Bottle filler shall provide 1.1-1.5 gpm flow rate with laminar flow to minimize splashing. Shall include the WaterSentry® Plus 3000-gallon capacity filter, certified to NSF/ANSI 42 and 53, with visual monitor to indicate when replacement is necessary. Shall include integrated silver ion anti-microbial protection in key areas. Unit shall meet ADA guidelines. Unit shall be lead-free design which is certified to NSF/ANSI 61 and 372 and meets Federal and State low-lead requirements. Unit shall be certified to UL399 and CAN/CSA 22.2 No. 120.
Standard Features:
Sanitary, touchless activation with auto 20-second shut-off
WaterSentry® Plus 3000-gallon capacity Filtration System, certified to NSF/ANSI 42 & 53 (Lead, Class 1 Particulate, Chlorine, Taste & Odor)
Integrated Silver Ion Anti-microbial Protection in key areas
Quick Fill Rate: 1.1 gpm when connected to refrigerated models; 1.5 gpm for non-refrigerated connections
Laminar Flow provides minimal splash
Real Drain System eliminates standing water
Visual User Interface display includes:
Innovative Green TickerTM counts bottles saved from waste
LED Visual Filter Monitor shows when replacement is necessary
Construction
Stainless Steel bottle filler wrapper with ABS plastic alcove
Retrofits to most 115/60Hz EZ style pushbar-activated models
Not designed for retrofit to EZO / LZO sensor-activated coolers
Optional Accessory
36292C Receptacle Adaptor Plug (115V with three plug-in receptacles)
Filter mounting covers for existing installations requiring filter mount below cooler:
98551C (Light Gray Granite)
98568C (Stainless Steel)
Replacement Filters: Available as Singles and Multi-packs. Order part numbers:
51300C (single)
51300C_3PK (three)
51300C_12PK (twelve)
51300C_24PK (twenty-four)
51300C_48PK (forty-eight)
CAPACITIES CHART

Certifications/Standards
ADA Compliant
UL399 and CAN/CSA 22.2 No. 120 Certified
ANSI/NSF 61 and 372 Certified
ANSI/NSF 42 and 53 Certified (Filter only)
GreenSpec® Listed
Warranty: Electrical components and water system are warranted for 12 months from the date of installation or 18 months from factory shipment, whichever date falls first.
RATED FOR INDOOR USE ONLY
Installation Notes:
EZH2O Retro-fit is designed to fit on an existing EZ style
Unit will mount on bracket attached to wall as indicated by six holes shown. cooler which is properly installed per the EZ Spec Sheet
Water and electrical will route through hole punched into basin. fough-in information.
Cooler must be pressurized. Bi-level and glass filler prepped units are already pressurized. LZ style coolers require field update.
ELECTRICAL: EZH2O equipped with electrical cord and three-prong molded rubber plug for use with 15-amp minimum receptacle. Rated at 115V/60Hz, single phase.
Single Cooler Retro-Fit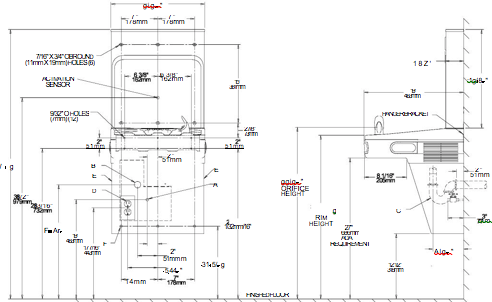 Bi-Level Cooler Retro-Fit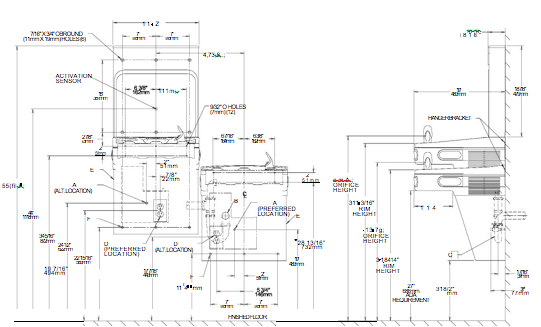 Bi-Level Reverse Cooler Retro-Fit