A Perfect Choice for Drinking Water
Hydrotech's advanced reverse osmosis drinking water systems are a natural and economical solution for providing your family with high quality drinking water. With a space-saving ultra slim profile, the system tucks neatly under your kitchen sink providing bottled water quality right from your very own tap. With almost 2/3's of us not drinking enough water each day, having delicious water conveniently on hand can help keep you properly hydrated and feeling great. Cut down on sugary beverages and avoid symptoms of mild dehydration such as headaches, dry skin

and daytime fatigue. Use for all your cooking needs. Perfect for coffee, tea and soups.
Bottled Water Quality…Convenient & Affordable
No lugging heavy bottles, no cooler rental, no monthly bill, no hassle. For a typical family of four our drinking water system produces water at a cost of approximately $0.23 per day. Compare that to delivered bottled water at over $1.25 per day*. Our systems offer a more advanced treatment process than typical entry level pour-through pitchers or faucet filters. At the heart of the system is a reverse osmosis membrane which removes impurities as small as an atom! Additionally, your water passes through a series of sediment and carbon filters – eliminating any unwanted tastes and odors giving your water a polished, fresh taste! Get back to drinking water the way nature intended it! *Costs may vary by market and location. Based on recommended daily drinking allowance.
Choose a System Just Right for You
Hydrotech is one of North America's largest suppliers of water treatment equipment. With over 40 years of experience, Hydrotech has been the leader in reverse osmosis drinking water technology; designing state of the art systems for residential and commercial applications. We offer a complete range of drinking water systems to fit your needs and your budget.
All models feature:
High quality reverse osmosis membrane
Choice of 9, 25, 50 and 75 gallons per day
Sediment pre-filtration
Pre and post carbon block filtration
Quick connect fittings
3/8" tubing from RO to tank and faucet for higher flow
Color coded tubing for ease of installation
Chrome faucet
Storage tank
Simple snap fit cover for ease of service
New slim profile with integrated mounting bracket for easy, space saving installation
Pro Series has been tested and certified by WQA against NSF/ANSI 58 for the reduction of TDS
Attractive new design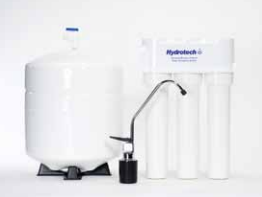 Pro Series : Premier Push Button Monitored Reverse Osmosis Systems
Our premier model is equipped with our patented Smartap® Push Button Monitor. At the touch of a button you can be assured that you are receiving top quality water or you will be alerted that it is time to change your membrane. This model also utilizes three dedicated sediment and carbon filters.
M Series: High Quality Four-Stage Reverse Osmosis Systems
This model produces great tasting drinking water in the exact same fashion as our Pro Series. The only difference with this model is that it does not include the patented Smartap® Push Button Monitor.
E Series: Compact Three-Stage Reverse Osmosis Systems
The E Series utilizes a combination sediment and carbon pre-filter and a dedicated carbon post-filter. This system is great for installing in tight spaces or for those looking for the most economical solution.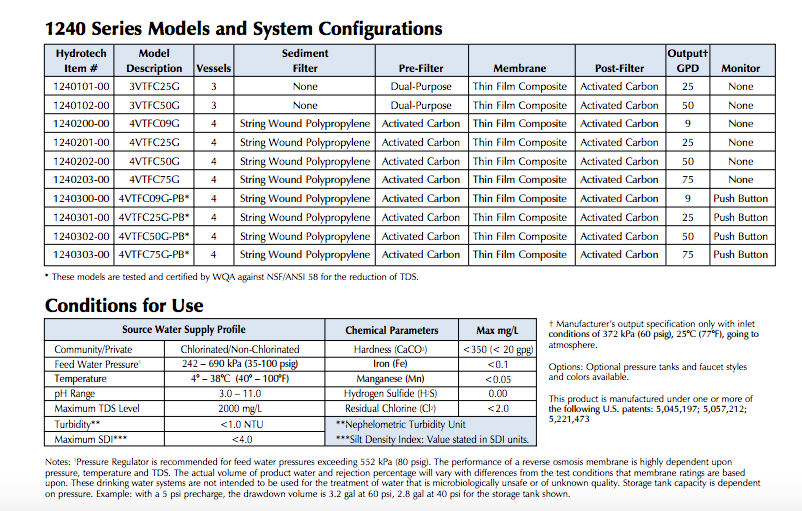 Booster Pump
Raises the water pressure and maintains it at the ideal level for the system to operate at maximum efficiency. Recommended for use on supplies with low pressure or high concentrations of total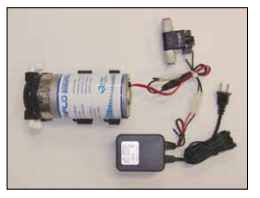 dissolved solids (TDS). The pump is selfpriming and whisper-quiet. It runs on a 24VAC transformer (included) from a standard 120VAC electrical outlet. System includes: Flexible mounting plate, quick connect fittings and a pressure shut-off switch.
Item #: 92325
Model: RO Booster with Pressure Switch and Transformer for 9 to 75 Gallon per day Systems